You would struggle to walk around a building site without seeing signs and warnings for your physical health. Hazards, precautions, safetywear, all necessary on sites to protect workers.However, walk around the same site and you would struggle to find any physical signs for your mental health. Coming forward about your mental health is something that many people struggle with, but in an industry with a stereotyped macho image, it becomes an almost impossible mission. We need to work together to confront the taboo surrounding mental health in the workplace and place it at the forefront of the agenda.
Male site workers in construction are three times more likely to commit suicide than the average UK male and this statistic acts as a reminder of the hardships facing those working in the construction industry and a light to show that we really need to work together to start doing something about it and break down the stigma surrounding mental health.
It's widely known that, like so many, the industry can be challenging at times. With potentially long hours, working away from home and sometimes for those who are self emplyed, the worry of the longevity of their business.
Let's take a look at some statistics below: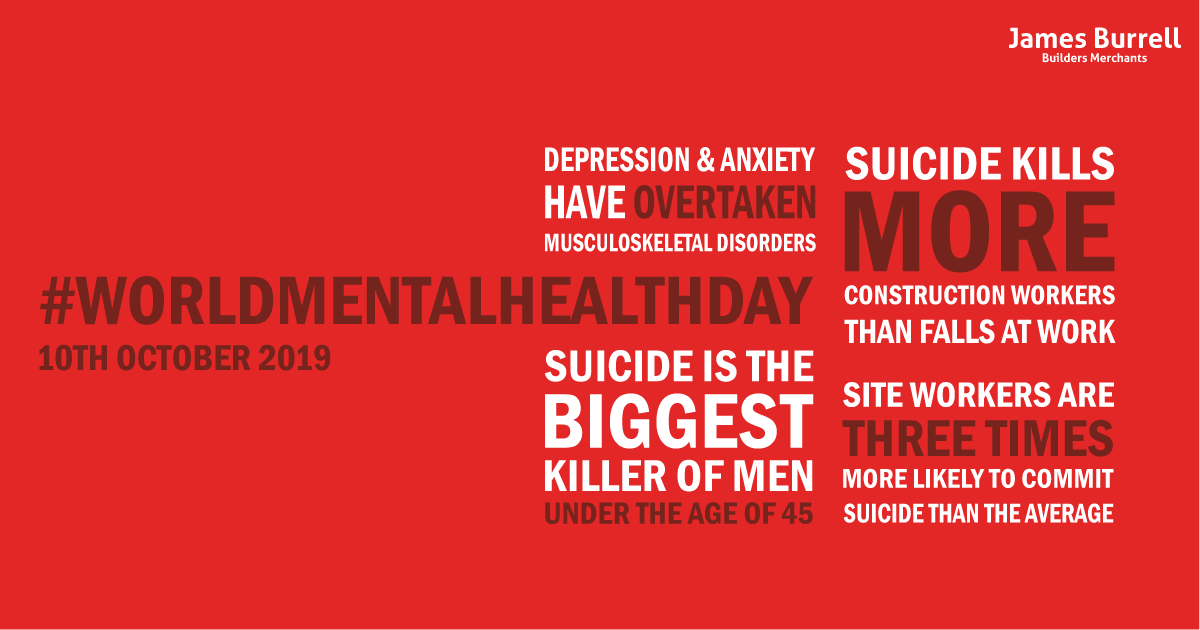 Although the impact of poor mental health is starting to become better recognised, there is no easy fix. However, we can all start working together as an industry to help combat the stigma surrounding mental health that is facing so many on a daily basis. It's about knowing what signs to look out for and the best way to deal with them; for ourselves and for our colleagues.
Know the signs to look out for:
Showing up to work physically but not being able to function
Decreased productivity due to distraction
Lack of self confidence
Isolation from peers
Agitation and increased interpersonal conflict
Increased feelings of being overwhelmed
As colleagues and friends, the best thing we can do is look out for the signs and be there. For those struggling with mental health, accepting they need help and talking about their feelings is the hardest part. Therefore simply making them aware you are there if they ever need to talk, asking if they are okay or how they are getting on, can make the biggest of difference to someones's mental wellbeing.
If you're reading through this and perhaps can relate to the signs, or feel like you could be struggling with your mental wellbeing, or maybe even recognise these signs in one of your colleagues there is so much support available for you.
Construction Industry Helpline: 0345 605 1956
Mind, Mental Health Charity: 0300 123 3393
The Samaritans: 116 123